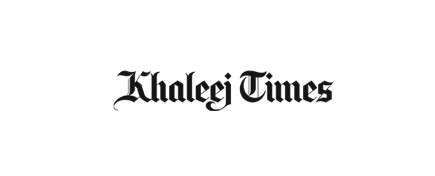 UAE-Israel ties: Meet the woman who will tell the Abraham Accords story to the world
The Khaleej Times
By Joydeep Sengupta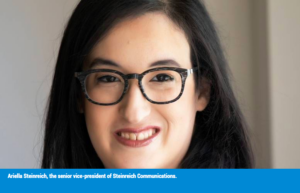 Boost for Abraham Accords, as Steinreich Communications overcomes challenges to the historic pact
When halal meets kosher and a dash of passion is added to the mix, what emerges is the game-changer for the Middle East.
Look no further than the historic Abraham Accords that was inked between the UAE and Israel – an unthinkable for sceptics, naysayers and geo-strategic policy wonks – in Washington on September 15 to ring in a raft of far-reaching changes in the region.
Few know the backstory how the momentous change in the pact named after the patriarch Abraham, regarded as a Prophet by both Islam and Judaism, was ushered in.
And who better to tell the story of its lasting impact than Ariella Steinreich, the senior vice-president of Steinreich Communications, who along with her team has been taking the lead on helping Israeli and Gulf companies communicate with their new friends and business opportunities in each other's markets.
Six years ago, Ariella had joined Steinreich Communications, a public relations (PR) global firm started by her father, Stan Steinreich, a former journalist, who had spent decades in large public relations firms.
Ariella was a natural fit to join the business having spent years at other PR firms overseeing media programmes for big-ticket clients. She was nominated by her previous firm for PR Week's Young PR Professional of the Year and was named a finalist for her stellar work.
What makes her tick in a region, where listening and observing hold the key to doing business and access to key new markets? It's her innate belief that there is incredible potential for the region. Having worked in the (Arabian) Gulf and Israel for a decade she has the rare skill of grasping potential communication challenges and is working to help her clients bridge those as they enter a new market.
While many in the region are quick to praise her work, she believes that the real heroes are the local Emiratis and Bahrainis, who have taken to social media, to support this newfound relationship with Israel. She pointed to the phrase, "not all heroes wear capes". Ariella attributed the change in geo-strategic narrative to social media influencers like Loay Al-Shareef, a Saudi Arabia-born and Bahrain-based journalist and a peace activist, who is at the forefront to spread awareness among those who are still sceptical about the pact. While in Dubai, he took to Twitter to sing Chanukah songs with Israeli journalist Michal Divon.
In Bahrain, Ahdeya Ahmed Al-Sayed, the president of the Bahraini Journalists Association, has played a pivotal role in creating positive discourse around the Accords. Ariella pointed to both of them as examples of how their impact has played a positive role in bringing everyone together.
She thanked the governments of these countries for making the "bold move," but she feels that what helped these Accords succeed was the support of the people. She noted how we are seeing real change in tide when it comes to Arabic newspapers wishing "Shana Tova" to their readers or when Emirati and Bahraini influencers take to Twitter to wish "Shabbat Shalom" (the Sabbath greeting) to their Israeli and Jewish followers.
Ariella is a multi-tasker and often starts her day as early as 2:15 am New York time to connect with her clients in Israel, Bahrain and the UAE in the region. She helps + 971 (the UAE's ISD code), +972 (Israel's ISD code) +973 (Bahrain's ISD code) talk among themselves.
Asked when she had an inclination that the (Arabian) Gulf would normalise relations with Israel, she pointed out to the UAE's Year of Tolerance as the moment she had a sense that the United Arab Emirates was moving closer. For Bahrain, she cited the White House's Peace to Prosperity Workshop held in Manama in June 2019.
Ariella believed that there would be a domino effect in the region, as business opportunities from fintech to artificial intelligence (AI) would give access to newer markets for all the stakeholders. She noted that the timing couldn't have been more opportune, as businesses look to rebound after the economic impact of the novel coronavirus disease (Covid-19) pandemic.
Now, Emirati and Bahraini businesses have a new market in Israel. Similarly, Israel has two new markets in the UAE and Bahrain.
With all of the interest in doing business between the UAE and Israel, the UAE-Israel Business Council, which was founded a few months ago, has over 3,000 members and have 50:50 participation between the two nations.
The Council was established by Dorian Barak and Fleur Hassan-Nahoum, business and public sector leaders from the UAE and Israel, respectively, to help foster shared opportunities, economic cooperation and business partnerships between Emiratis and Israelis. The group has been successful in helping to make connections between businesses in a variety of sectors and has helped make some of the largest business partnership announcements in the region following the Accords.
The other spin-off of the pact was the Gulf-Israel Women's Forum, an online platform set up a few months ago. The historic face-to-face meeting of the Gulf-Israel Women's Forum, an offshoot of the Council, took place in Dubai at Dukes The Palm, a Royal Hideaway Hotel, in October. During the first meeting, more than a dozen Israeli and Emirati women gathered to discuss life, work, and the future for the region. The first meeting was hosted by Jerusalem's Deputy Mayor and co-founder of the Forum Fleur Hassan-Nahoum.
Ariella, a born optimist when it comes to the region, is high on hopes of what 2021 will bring in regard to (Arabian) Gulf-Israel relations and believes that more countries in the region will follow suit.
"One of the things we are telling our Israeli clients is that if you enter the (Arabian) Gulf now through the UAE or Bahrain, you will have a much easier time entering additional markets (in the Gulf Cooperation Council [GCC] member states) once they establish relations with Israel as you will already be a known name in the (Arabian) Gulf," she added.
She is quick to credit her incredible team of colleagues, who are equally as passionate and humble, about the work they are doing.